I have hay in my shoe,
I said to Ethan and my mom this past Saturday. I don't think I've ever said those words, in that order, before. We'd taken Ethan to
Hill Ridge Farms
, in Youngsville, NC (about 20 minutes north of Raleigh).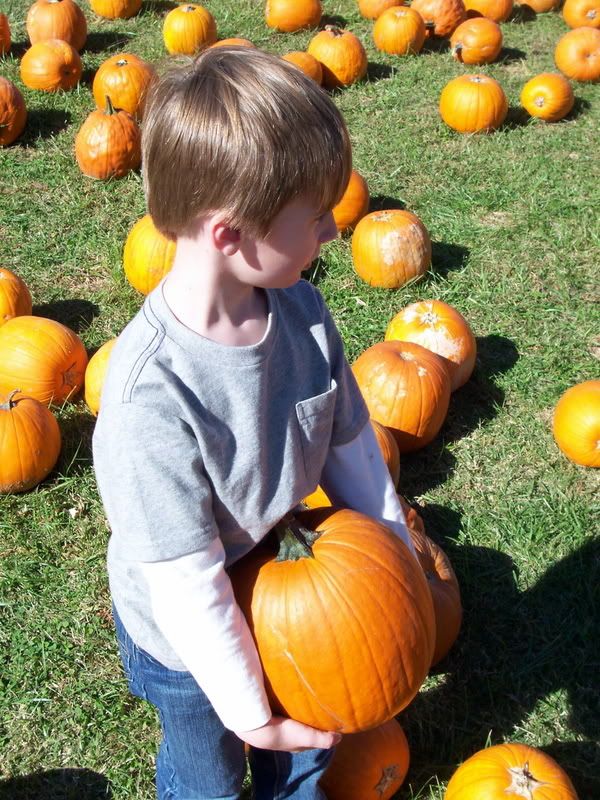 Most Octobers, we are in NY and visit a fabbo place in Muttonville for pumpkins, but this year, with Mitch in CA right now, the NY thing wasn't happening. This place, I must say, was even better, when you consider all the cool stuff they have.
We took a hayride to the farm's pumpkin patch, where Ethan wasted no time choosing just the right one for him. Then, we were off on a train ride, through a literally short maze (over whose walls he towered, thus eliminating the difficulty of the thing), and an 80-foot slide. They also had a pond, where we could "feed the hungry, friendly fish," Ethan assured me, though we didn't happen to have any fish food on us. We even got to see a combine (Frank?) at work, something E and I had only previously seen in the movie "Cars."
The weather was perfect for such a day - crisp and cool, with bright sunshine.
I am so glad fall is here!