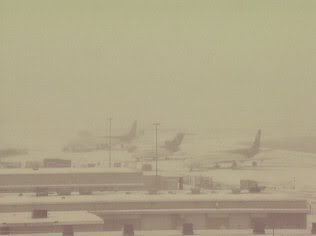 THANK GOD we don't live in OK anymore. Here's what's happening in Tulsa, as I sit here in NC, 75 degrees, with my office window open:
Winter Storm Warnings Continue. Ice, Sleet, and Snow will be likely across much of the area today with significant accumulations likely. Cold air will remain for the next 6 days.
TODAY: Periods of ice and sleet, then becoming all snow by midday. Total accumulations from 4 to 10 inches possible for some locations along and northwest of I-44. Sleet,Ice, and Snow from 3 to 5 inches may occur in southeastern OK. Temperatures in the mid 20s to upper 20s northern OK to near 30 in southeastern OK. North wind 20 to 35 mph.
(Props go to
KOTV 6 weather
for the copy and picture of the airport.)