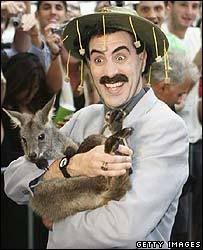 How could I pass up chance to post this glorious photo of Kazakh hero Borat, fresh arrival into Oz with pet wallaby, animal not found in U S and A? High five!
I have nothing else to say - I'm home after nearly 2 straight hours of treble reels. They're great fun, but my treble reel muscles are aching now... For any dancers reading this, if you don't already have
Ouch Pouches
, get some. Then get yourself a
Really Big Tip
so that, if
Colin Dunne
&/or his
masterclass
causes your big toenail to die a horrible death, you can still wear your hardshoes.